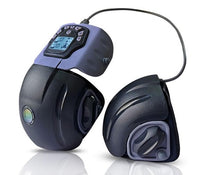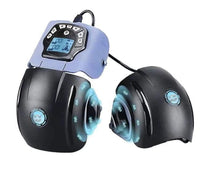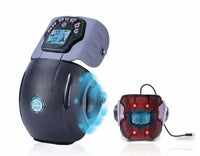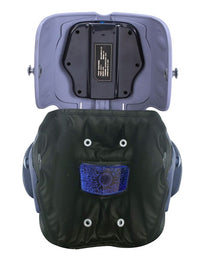 Regular price
$229.95 USD
Regular price
Sale price
$229.95 USD
Unit price
per
Sale
Sold out
GUARANTEED RELIEF FOR  KNEE PAIN
If you have ever experienced knee pain, you probably understand why research shows that knee pain is the most common musculoskeletal complaint doctors receive. It's incredibly uncomfortable and is usually accompanied by one or a combination of swelling, stiffness, redness, warmth to the touch, weakness, instability, popping/crunching noise, or inflexibility. 
You can treat or manage knee pain, from home. However, the challenge is knee pain can be a result of a wide range of injury, medical and chronic use-related causes. Without actually knowing which of the causes is affecting you, specifically, many treatments are quite ineffective.

If you have tried any of the home treatments suggested by a friend, family, or online, you are probably thinking it's impossible to treat knee pain from home. Perhaps you are even thinking it's time to go back to the doctor, even though you know it will cost you a fortune to see the right doctor. You don't have to bite the bullet!
The KNEE CARE PRO™ Intelligent Orthopedic Device is an ultra-effective treatment and management of knee pain for a wide variety of causes.
Meet the KNEE CARE PRO™ Intelligent Orthopedic Device!
The KNEE CARE PRO™ Intelligent Orthopedic Device was developed from vibrational massage, light therapy, heat therapy, and orthopedics technology. The combined effect of the technology allows the system to directly target cartilage, tendons, ligaments, bursae, and even bones to relieve knee pain.
Although some doctors now use the system, it was intentionally made to be used by the general public so that anyone who wants to use it, can use it in any setting without any sophisticated physiotherapy or orthopedic knowledge.
The KNEE CARE PRO™ Is Not Just For The Knees 
The ergonomic design of the KNEE CARE PRO™ allows for the system to also treat:
● Shoulder pain
● Elbow pain
● Ankle pain
KNEE CARE PRO™ THERAPIES
The KNEE CARE PRO™ Intelligent Orthopedic Device has three main therapies designed to work in unison or as individual therapies for specific pain relief.
HEAT COMPRESS THERAPY
The KNEE CARE PRO™ Hot Compress therapy relieves pain and speeds up healing by increasing blood flow to sore areas.
FULL BODY MASSAGE THERAPY
KNEE CARE PRO™ comes with electrode massage pads that can be used to lightly massage different parts of the body.
VIBRATION MASSAGE THERAPY
The KNEE CARE PRO™ has two powerful 3000RPM motors that penetrate deep into the knee to lightly massage, and provide long-term relief.
KNEE CARE PRO™ FEATURES
USER-FRIENDLY LCD CONTROL PANEL
The KNEE CARE PRO™ comes fully equipped with an easy-to-use control panel. The system was designed by UX designers to ensure that anyone who wants to use it, can. Even though the KNEE CARE PRO™ offers some of the most sophisticated knee pain relief therapy, there are no complicated buttons, icons, or metrics, so anyone can use them.
FULLY ADJUSTABLE
The system comes in one universal size and one size fits all. The quality materials were chosen for their ability to both stretch out and hug the knee when needed. The outer shell is made from premium quality polycarbonate abs and the inner layer is made from high-quality medical-grade fabric, leather, and elastic.
MULTIPURPOSE
The KNEE CARE PRO™ Intelligent Orthopedic Device can also be used for other body parts. The main device can be used on shoulders, elbows, and ankles whilst the electrode massage pads can be used for any other part of the body.
THE FULL KNEE CARE PRO™ SYSTEM
● 2x KNEE CARE PRO™ Main Controller
● 1x Second Controller
● 2x External Electrodes
● 1x USB Connector
● 1x Power Adapter
● 2x Adjustable Straps
● 1x User's Manual
View full details